WHY JOIN THE ACCELERATOR?
Artists are entrepreneurs. They create something from nothing. We've seen this model work for other start-up companies and believe it can be applied with recording artists!
In recent years, the complexities of the music landscape have posed a challenge for aspiring artists: how do you harness the democratization of the internet to build a successful career? The explosive growth of music creation tools and social media has placed more than enough tools and channels at the creators' fingertips to grow their business. Despite the accessibility to the public via these direct platforms, establishing a systematic and creative strategy is difficult, and executing massive album campaigns is even harder.
The TH3RD BRAIN Accelerator is a program tailored for managers and artists to tackle the major challenges and provide the infrastructure and industry network to jumpstart their careers. Over the twelve week period, we consolidate our expertise in marketing and business development into a structured curriculum to prepare artists for an album or career launch. Designed from years of experience breaking artists, the Accelerator helps artists understand their brand values and communicate their vision across various touch points to the marketplace. Our ultimate goal is to create substantial trajectory around their initial releases, while simultaneously equipping the artist and their team with a foundational toolbox of knowledge, relationships, and project management expertise for long term success.
WHAT IS THE PROGRAM?
The TH3RD BRAIN Accelerator will fully prepare a manager for a music release roll-out within 12 weeks. The program will challenge the artist and manager to:
Set regular goals with progress and strategy evaluated at incremental checkpoints
Create content through creative collaboration and ideation
Meet and pitch important partners that can impact the reach of the artist and their music
Develop and evolve the music and live experience of the artist
Craft a culturally relevant story and brand to attract passionate cult fans and esteemed press
Manage the short-term execution and project management while balancing the long-term vision of the artist
Our program is designed around workshops with our team and carefully an selected mentors to best prepare artist's body of work for its upcoming release.
While managing the artist needs, we also coach managers with regular feedback, develop their entrepreneurial skills, and create connections for future success. The Accelerator leverages our extensive network to schedule regular meetings with important figures in the music industry and to open doors to previously unreachable opportunities.
At the conclusion of the Accelerator, we prepare the artist for the next chapter of their careers. The three months of intensive training, education, and networking provides opportunities for individuals to develop into promising entrepreneurs and visionaries. Ideation, goal-setting, and execution will enable the artist and their team to make the next business breakthroughs as they graduate to larger challenges ahead.
WHAT IS OUR PHILOSOPHY?
Inspired by technology counterparts, the TH3RD BRAIN Accelerator idea was hatched by our passion for artist development.
We demand a standard of work ethic, communication, and proactivity that will be the cornerstone of an artists' team to propel their career. We wanted to create further tools and resources that will push their projects into the stratosphere, while simultaneously laying the groundwork for managers and their artists to replicate future successes for their careers!
We understand the driving forces of what it takes for an artist to be successful in the music industry and have created a twelve week artist development program that will challenge, inspire, and support artists in finding their truest voice and maximizing creativity!
Much like a start up business, a musician's career, especially in the infant stages, is an intense journey to identify and create a product-market fit with consumers. Through the accelerator, we will strive to refine the artists' story and give them the platform to deliver that story and bring the music to a new audience.
HOW DO WE HELP ARTISTS?
We firmly believe, albeit important, that tastemaking branding and incredible music is not enough to make it in today's millennial age. The expansive power of the internet is maximized only through careful attention to detail and thorough planning. Great music is properly distributed when there is an equally great strategy behind it. The TH3RD BRAIN Accelerator is a crash course for artists to answer the overarching question that faces them once their body of work is complete: now what?
In this program, we have broken down the artist's brand into distinct sections:
A&R: How do you develop an artist's sound and connect them with their dream collaborators?
Content: How do you source and produce great relevant content (photo, video, offline, performance, etc.) for specific channels?
Marketing: What are viral ideas that can create the best business opportunities? partners to break your content and brand?
Press: What story is being told? Which are the best publications to tell it?
Touring: How do we create the best unique live experience for your music?
How do we create and evolve an artists' music for the next phase? An artist's vision is a massive endeavor – we are excited to invest our network,experience, and team with the right individuals to culturally impact the world.
HOW DO WE HELP MANAGERS?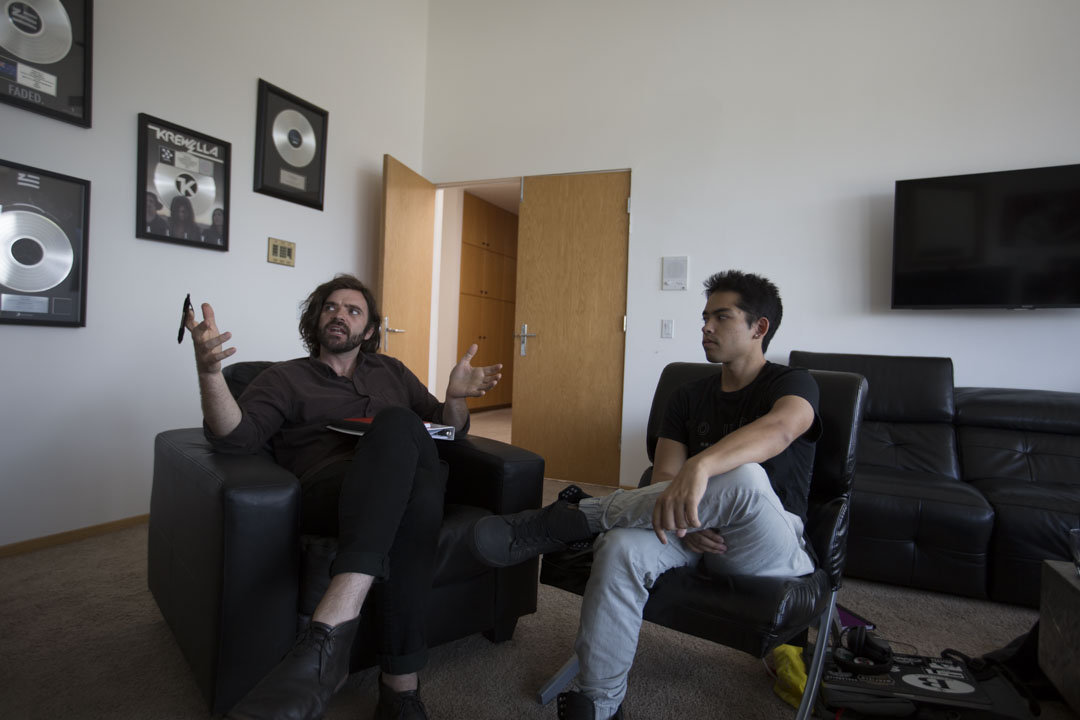 We are a team of managers. We recognize the simultaneous excitement and confusion that our peers feel guiding their clients through various opportunities and creative decisions. Building a brand is no easy feat. You need to sell your artists to prospective fans. And venue promoters. And music platforms. And on and on.
The day-to-day operations crave simplification and structure to stand a chance at success. Accountability for every aspect of an artist's business is more than constant vigilance. Excellence is achieved over time when consistent creativity is matched by efficient execution. At the TH3RD BRAIN Accelerator, we channel the entrepreneurial drive for innovation into tangible actionables on a regimented schedule.